Geoduo m76, new innovation for collecting energy
boreholes drilled in angle.
Boreholes for the GeoDuo M76 can be drilled at an angle. This makes installation possible also in confined spaces.

Normally the maximum depth is 35 m. Total depth depends on the energy needed for heating the house and producing hot domestic water.

Using boreholes with a diameter of less than 4" makes the drilling faster and most cost-effective.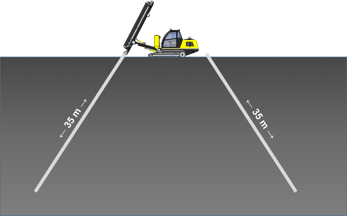 GeoDuo M76 are installed and connected with a feeding pipe to the ground source heat pump